Rivian Camp Kitchen x Snow Peak Package
This package combines three accessories: The Camp Kitchen, Rivian Gear Tunnel Shuttle and Snow Peak Kitchen Set.
30-piece kitchen set from Snow Peak

Three-piece modular kitchen

Two-burner induction cooktop
Free Shipping in US
Free 90-day Returns
Compatibility

R1T

Water Tank

4 gal

Watts

1,440
The Camp Kitchen has a collapsible sink to create plenty of cook space and comes equipped with a spray faucet, dish rack and bottle opener.
Features
At 1,440 watts, the two-burner induction cooktop can quickly heat up a pot of chili and stays cool to the touch, and its smooth surface wipes down easily.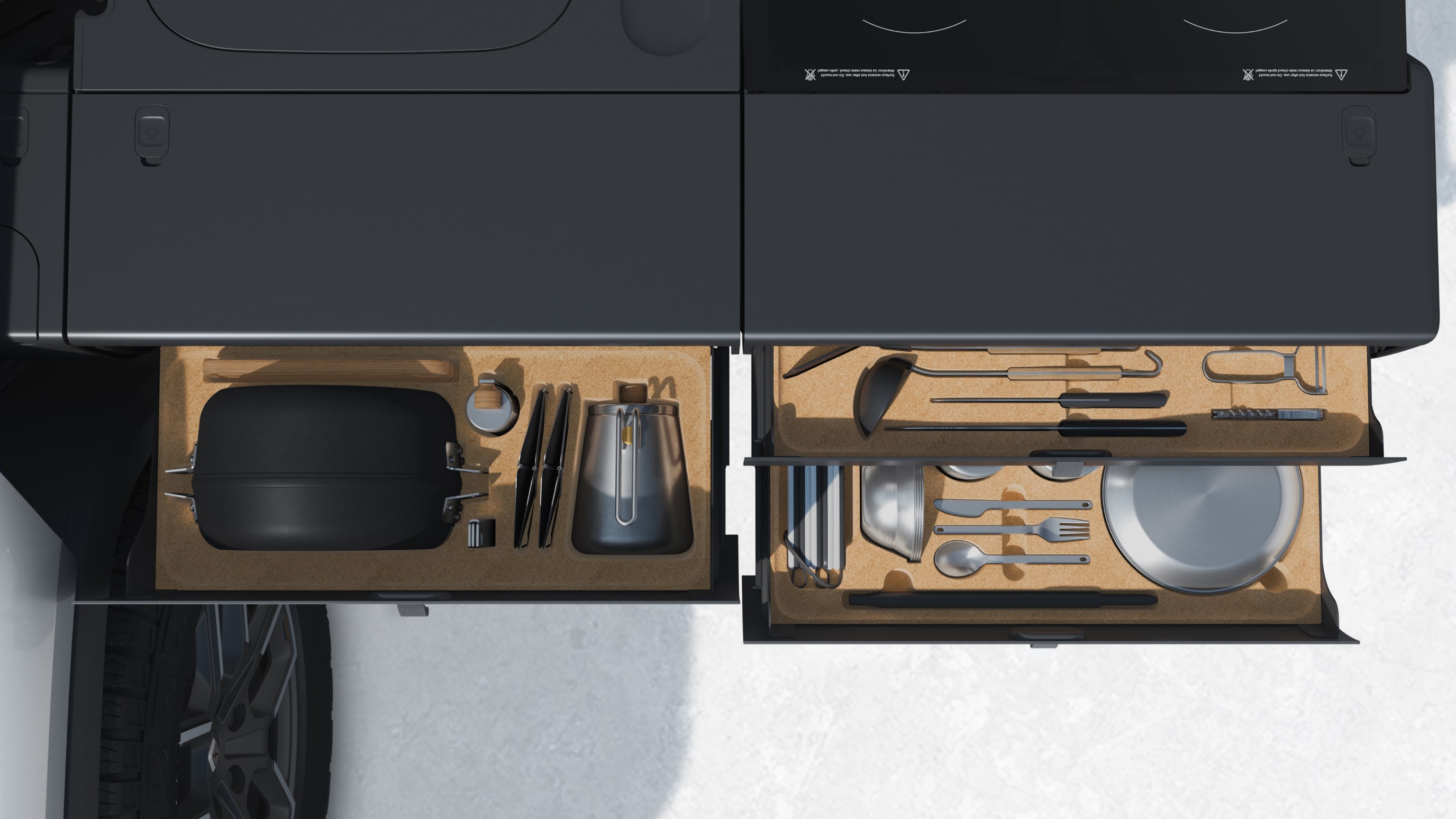 The Gear Tunnel Shuttle holds and powers the Camp Kitchen. Each section of the kitchen securely locks onto the platform. In the future, you can use your Shuttle for other Gear Tunnel accessories.
Nylon & Bamboo Spatula / Pitts BBQ Tongs / Nylon Ladle / Medium & Large Knife / Cork Screw / Can Opener / Peeler / Titanium Cutlery Set of 4 Knives, Forks, and spoons / Tableware Set of 4 Bowls & Plates / Stacking Mug Set of 6 / Home & Camp Cookset / Water Kettle / Charcuterie & Cutting Board / Coffee Drip x 2 / Coffee Grinder / String of Lights & Pole Set
Specs
Dimensions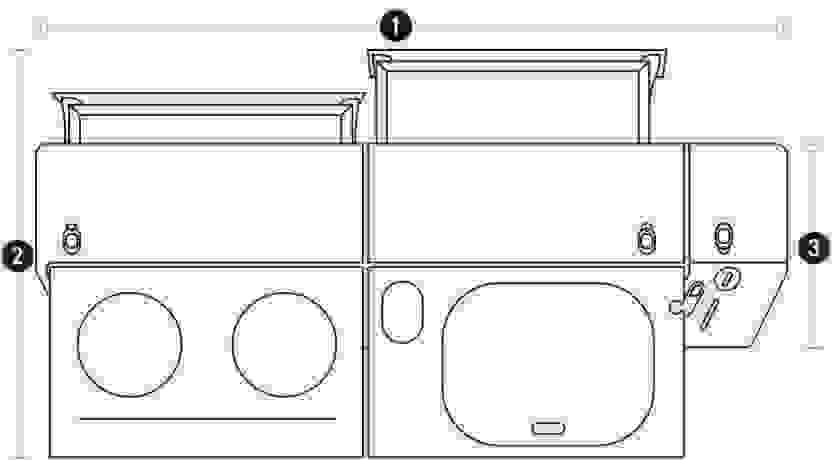 60.3 in

32.0 in

17.0 in
Camp Kitchen (3-modules), Gear Shuttle



Snow Peak Set:
 Nylon Spatula, Bamboo Spatula, Pitts BBQ Tongs, Nylon Ladle, Medium Knife, Large Knife, Cork Screw, Can Opener, Peeler, Titanium Cutlery Set (knife, fork, spoon), Tableware Set Family, Stacking Mug Set, Home & Camp Cookset, Water Kettle, Charcuterie / Cutting Board, Coffee Drip, Coffee Grinder, String Lights with Pole Set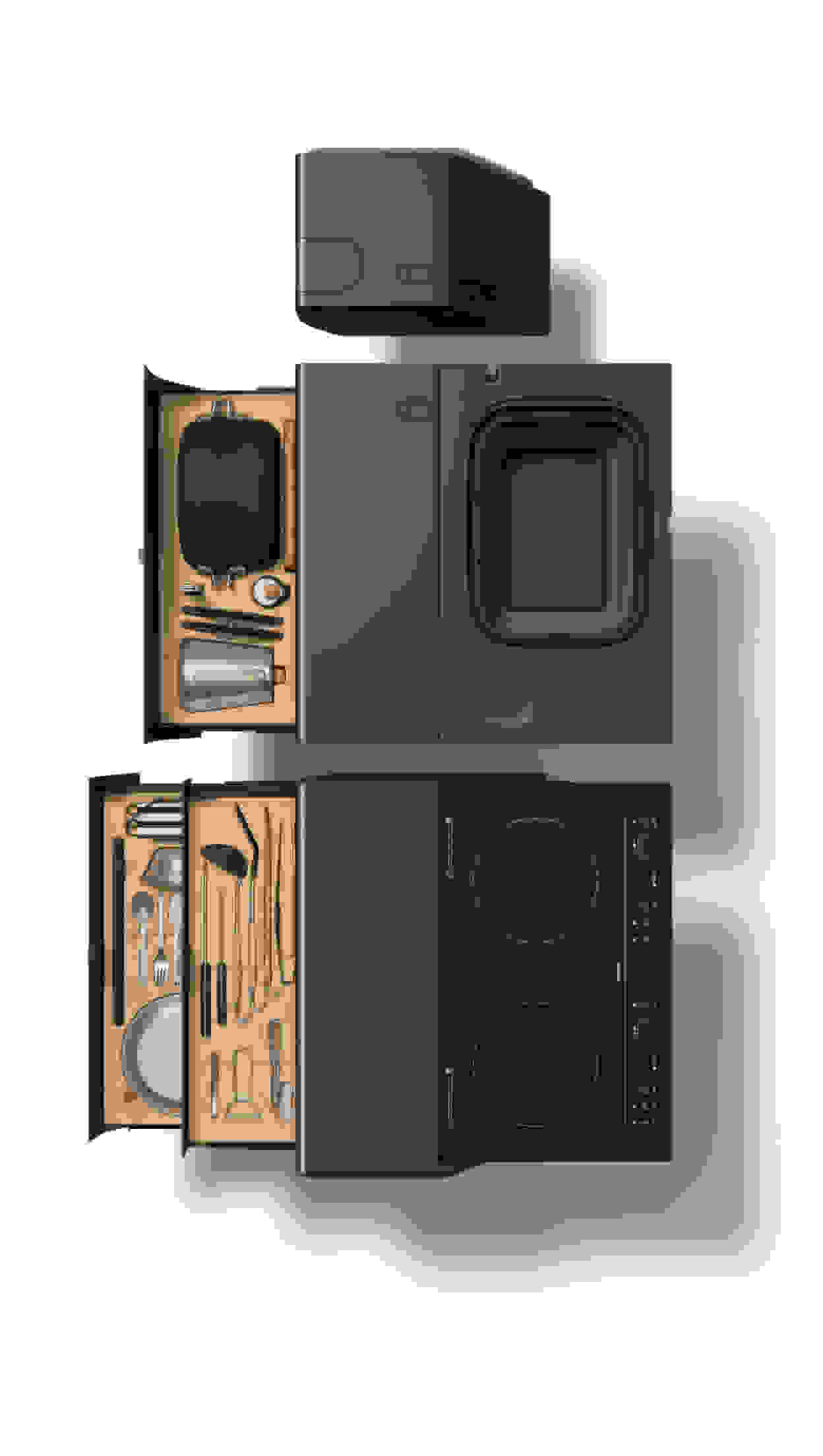 Frequently Asked Questions
Do I need to purchase the Gear Tunnel shuttle to use the Camp Kitchen?
Is the Camp Kitchen removable?