R1S
Explore the places you love with the people you love. Grab your camera. It's time to make some memories.
Starting at $70,000 with an EPA estimated range of 316 miles.
01 Capability
From city streets to far-off trails, explore all types of terrain through all kinds of weather. Whatever adventure means to you, R1S is ready for it.
From the hottest places to the coldest — from 130ºF to -25ºF — our battery system was built to explore, delivering an EPA estimated 316 miles of range when paired with 21" wheels. For 20" wheels, our estimates show a range reduction of 10-15%, with a 5-10% reduction for 22" wheels. Estimates may vary depending on driving style and conditions. After launch, we'll announce the timing of our 250+ mile and longer range R1S, with seven seats.³
We're building the Rivian Adventure Network — a nationwide network of fast-charging stations.
Drive through 3+ feet of water. Rock crawl at a 100% grade. Traverse just about any terrain with 14.9 inches of ground clearance. With a 0-60 mph time in as quick as 3 seconds depending on your tire selection, it also delivers the on-road handling of a sports car.¹
This level of performance needs to be utilized responsibly. If you venture off-road, please tread lightly.
Structures made from aluminum alloy, ultra high-strength steel and carbon fiber are designed for enhanced safety. Our platform's low center of gravity helps prevent rollover and keeps you confidently planted. To help improve safety further, a range of driver assistance features are standard on every Rivian vehicle.
Our powertrain, thermal system and frame structure enable the R1S to tow up to 7,700 lbs in all variants. When towing at full capacity, you can expect around a 50% reduction in range.¹
Use Trailer Assist to let your vehicle help with some of the more difficult maneuvers when towing.
Rivian vehicles are built to last. Our standard comprehensive warranty is 5 years or 60,000 miles. Our Battery Pack and Drivetrain are covered for 8 years or 175,000 miles. And our limited corrosion warranty is 8 years with unlimited miles. Warranties are based on whichever comes first.
The Rivian platform includes our battery pack, drive units, suspension, thermal and lower body structure. These systems have been elegantly packaged to preserve cabin space for occupants and gear while providing a low center of gravity for more confident driving.
Quad-motor drive, independent air suspension and hydraulic roll control – standard on every Rivian.
Capability at a glance¹
Powertrain

Quad-motor

0-60 mph

3 secs

Towing capacity

Up to 7,700 lbs

Wading depth

3+ ft
More Snow Days
Delivering capability in all conditions
Opportunity doesn't wait for the weather to change so you shouldn't have to either. Plowed roads, salted roads, freshly dusted or yet to be cleared — the R1S loves the snow. It loves wet roads and rough ones too. With independent motors for each wheel delivering precisely the right amount of torque where traction is best, and an ultra-low center of gravity that plants you to any surface, the R1S gives you the confidence to say yes no matter what the forecast says. Oh, and when you want to take an incredible drive on a beautiful sunny day, it's there for that too.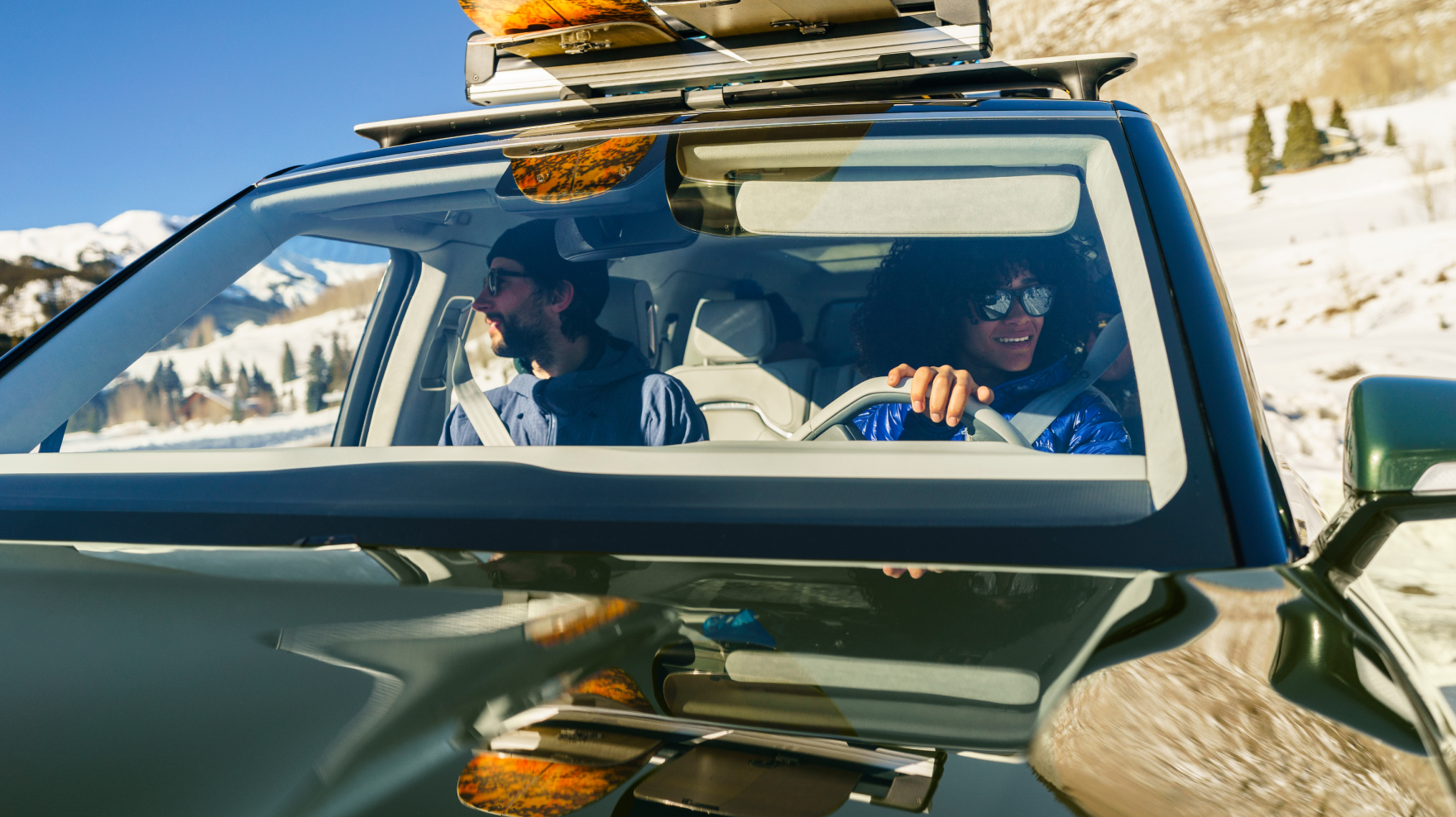 Our quad-motor system improves traction in all conditions, but it really stands out when the weather is at its worst.
Mason V.
Powertrain Engineer
02 Experience
The cabin of the R1S is a warm and inviting place to gather. With durable materials, versatile seating and abundant storage, it's built for whatever might happen when people do memorable things in memorable places.
Your mobile app, vehicle and charging capabilities communicate seamlessly behind the scenes via cellular or Bluetooth to help you get wherever you're going, safely and fully charged.
LTE and Wi-Fi connectivity in your vehicle help you get to your next trailhead or destination. Over-the-air updates continuously enhance your drive, updating everything from driving dynamics to the entertainment on your touchscreen.
LTE and Wi-Fi capability, Bluetooth pairing, wireless inductive charger, up to 8 USB, 3 12V and 2 120V outlets, Alexa voice commands.²
You'll spend a lot of time in here, so we designed our cabin accordingly. Every row feeling as good as the first, with thoughtful materials, intuitive technology and ample space for everyone.
Choose from natural-grained ash wood or matte black interior finishes.
Our vehicle colors draw inspiration from the places we've been and things we love. Like our silver, the color we first shared with the world at our premiere in LA. Or our yellow, inspired by our logo, the Rivian compass. Or Rivian Blue, our founder's favorite color.
Take in the beauty of the world day and night with our all-glass panoramic roof. An open-air removable roof option will be offered in mid-2022.
The Rivian Elevation audio system by Meridian positions speakers at precise locations throughout the cabin, including four aluminum dome speakers overhead. Once you reach your destination, you can use the removable Bluetooth speaker and bring your favorite music with you.
Our audio system provides a fully immersive soundscape through the use of cabin-correction technologies and precise frequency control.
Experience at a glance
Data capabilities

LTE and Wi-Fi

Audio

Rivian Elevation

Seating

Vegan leather

Roof

Panoramic
A New Generation of Adventure
How new experiences bring us closer
When we invited the Sykes family, who are among our earliest preorder holders, to meet us in the Yucca Valley to try their future all-electric SUV on for size, we knew what the answer would be. Thomas and Angela have made a habit of saying yes as long as they've known each other — and as long as we've known them — and it's always opened doors to new worlds, including ours. Now their boys, Grayson and Asad, are following suit.
"With my dad, there's always some lesson or hidden message in everything we do," said Asad. "Seeing what happens when we slow down for a couple of days, pay more attention, cross paths with people we'd never ordinarily meet — it's something I'll never forget. I'm 17-years-old and in another 17 years, I'll still be smiling from ear to ear when I think about this trip to the desert. And that sunset!"

Us, too.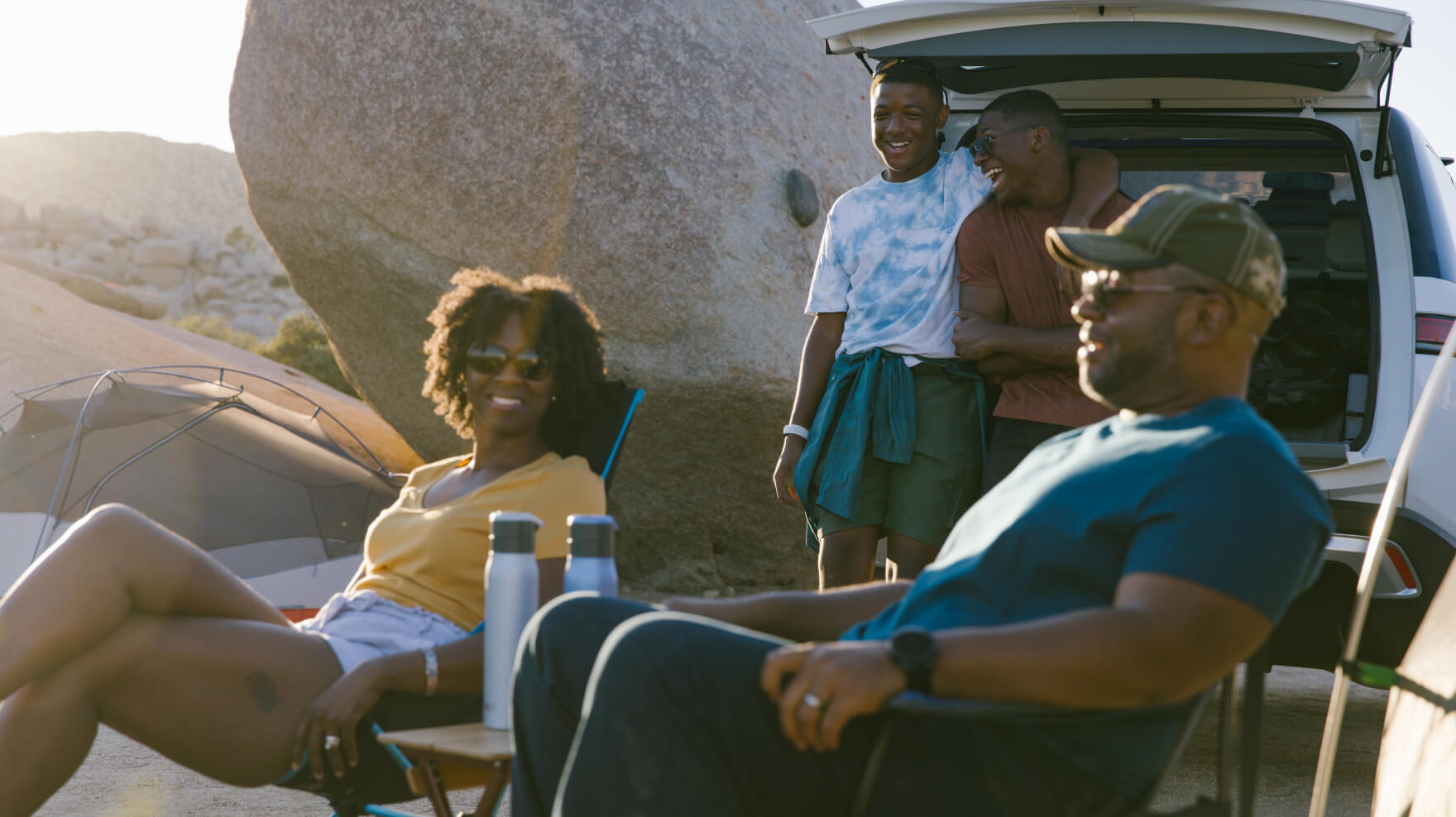 03 Utility
Pile in with the ones you love — your rowdy ones, muddy ones, tall ones, quiet ones, chatty ones and sleepy ones. With room for seven and all your gear, R1S is made for more of the good stuff.
Our second-row seats fold 60/40 with the third-row splitting 50/50, so you can mix and match passenger seating for optimal cargo space. And since the seats fold nearly flat, you can lay in the back and look up at the stars through the all-glass roof.
The R1S is available in either five or seven seat configurations.
Open the power liftgate for quick access to the rear cargo space. Between the front trunk, center console, under-seat compartments, rear storage bin and cargo area, the R1S provides up to 105 cubic feet of secure storage.
Our front trunk measures 25.4 in by 54.8 in with a depth of 22.7 in. Large suitcases, coolers and backpacks are no problem.
Gear up and get going in seconds with our Adventure Gear. Rivian Cargo Crossbars are designed to fit multiple ports on the roof and are compatible with a broad range of mounts and gear — including our rooftop tent. Look for more Rivian adventure products and accessories, like our Wall Charger, in the configurator today.
R1S can automatically adjust to a lower height of your choosing when parked, as low as 8.1 inches off the ground, helping you load in little ones, groceries, gear — and of course, yourself.
Raise the ground clearance up to 14.2 inches when going over rocky terrain or steep grades.
Utility at a glance
Rows

3

Passengers

7

Seats

Fold flat

Storage

Up to 105 cu ft
Bring All Your Gear
How we design utility into everything
Open up the tackle boxes of 100 different anglers and every single one will be unique. How we each select, organize and pack our gear is a natural extension of our personalities, and a way to express ourselves through the tools and objects we love. For whatever you might bring with you, we know it's not just cargo — it's personal.

The R1S offers functional storage where you need it, and in spots you never thought you'd find it. Pull-out compartments in the front seats keep delicate items close at hand. Our center console reaches nearly a foot deep to store bulkier things and is also illuminated so you don't lose the tiny ones. And our front trunk – while expansive for larger items like coolers and luggage – offers small details like hooks to hang shopping bags so items don't roll around and an elevated floor that makes reaching inside more convenient.

With a place for everything and everything in its right place, the R1S is a flexible space designed to adapt to every driver, and all the gear that comes along.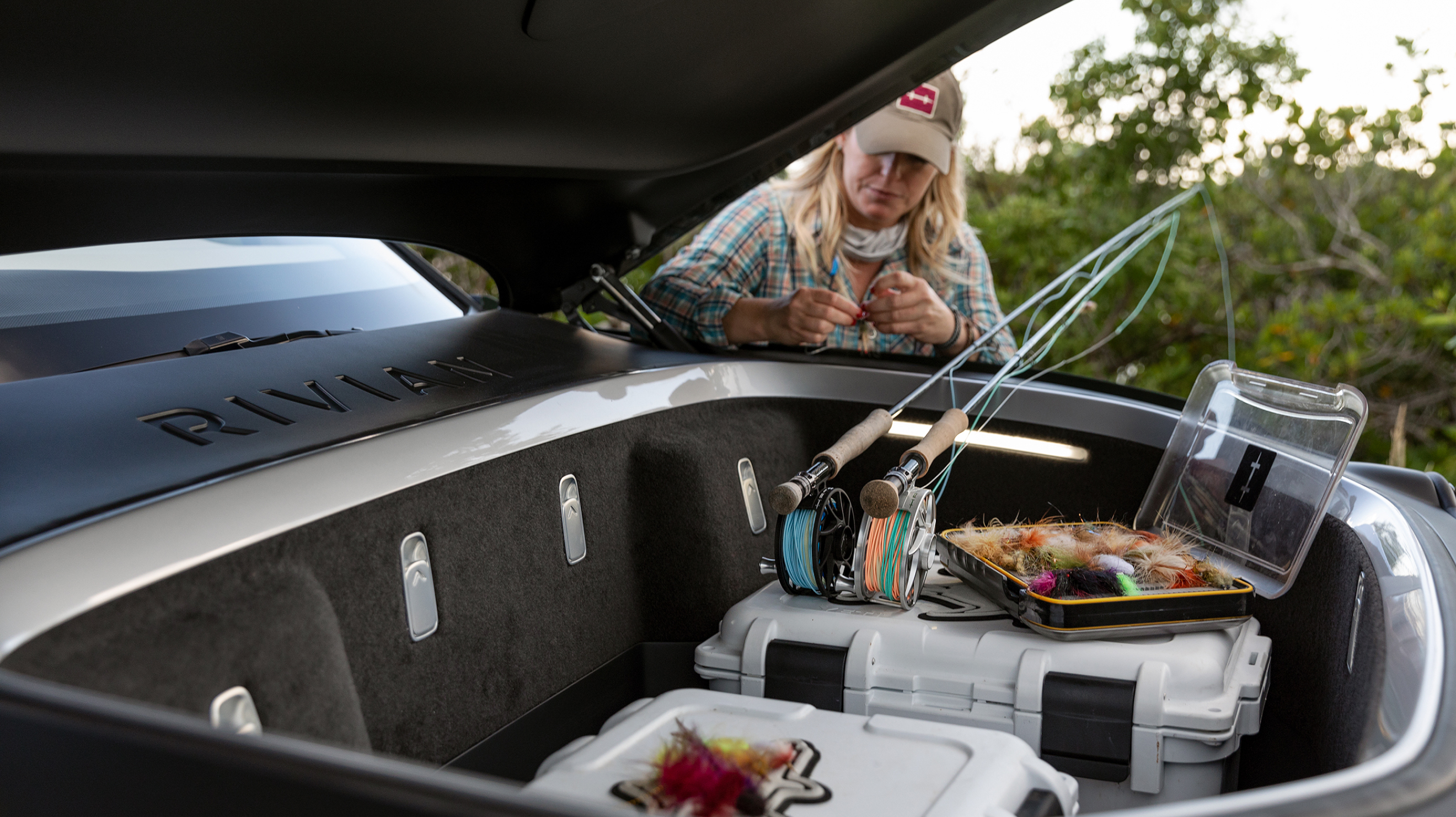 04 Driver+
Rivian Driver+ is standard on every vehicle we build. Delivering true hands-free driving assistance along with our full set of safety features, the system continually adds functionality through over-the-air updates. By making Driver+ standard, our goal is to make driving safer, easier and less stressful for everyone.
With Driver+ engaged, your vehicle will automatically steer, adjust speed, and change lanes on your command. Driver+, like all driver assistance systems, requires your full attention on the road. You should not use a hand-held device behind the wheel.
Highway Assist will be enabled on select highways at launch with more road types introduced over time.
Automatic braking in emergencies. Lane keeping if you drift. Alerts for vehicles in your blind spot. Every Rivian vehicle includes these features and more, all standard. Through over-the-air updates, we'll add more over time at no cost to you.
Driver+ capabilities also include warnings for forward collision, rear cross-traffic and lane departure.
Our complete hardware system is standard on every Rivian, including an interior camera to monitor driver alertness. If the system detects your attention drifts away from the road, you'll be automatically prompted to place your hands on the wheel to continue driving with Driver+ engaged.
Driver+ at a glance
Cameras

11

Radars

5

Ultrasonic sensors

12

Field of vision

360º
Your owner's guide will be available at time of delivery and contain important feature information and limitations.
Specs¹
Overall

Storage

Off-Road Performance
A

Max height (with antenna)

77.3 in

200.8 in

121.1 in

Width (side mirrors folded)

81.8 in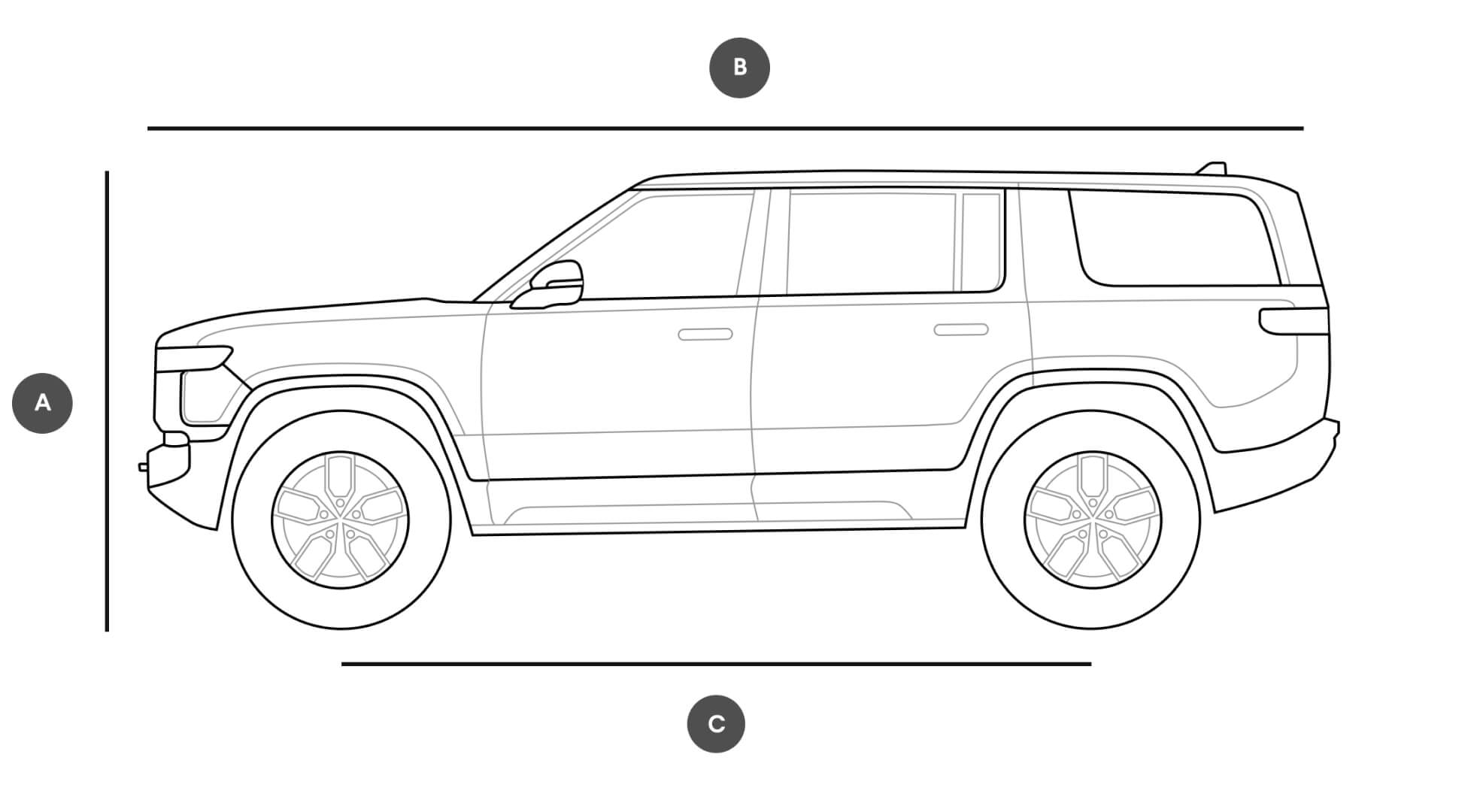 Equipment Packages
Launch Edition
We're celebrating our launch with this limited release of the Adventure Package.
Features
Large pack battery standard
Available with seven seat interior
Rivian Elevation audio by Meridian
Natural-grained ash wood interior finishes
Perforated vegan leather seating with patterned stitching
Heated and ventilated seats
Heated steering wheel
Driver and passenger lumbar adjustment
Compass Yellow interior accents
100% recycled microfiber headliner
Chilewich floor mats
Air compressor
Power liftgate
Priority delivery
Launch Edition interior badging
Special Launch Green paint color option
20" All-Terrain or 22" Sport wheel upgrade included
Adventure Package
A premium interior with added functionality, all designed for adventure.
Features
Large pack battery standard
Available with five or seven seat interior
Rivian Elevation audio by Meridian
Natural-grained ash wood interior finishes
Perforated vegan leather seating with patterned stitching
Heated and ventilated seats
Heated steering wheel
Driver and passenger lumbar adjustment
Compass Yellow interior accents
100% recycled microfiber headliner
Chilewich floor mats
Air compressor
Power liftgate
Explore Package
Ruggedly capable with a sport interior built for the elements.
Features
Large pack battery standard
Available with five or seven seat interior
Standard audio system
Matte black interior finishes
Vegan leather seating with performance stitching
Heated seats
Heated steering wheel
Driver lumbar adjustment
Textile headliner
100% recycled textile floor mats
Air compressor
Power liftgate
Preorder an R1S
Preorder an R1S today for only $1,000.
Disclaimers:
*Images and videos shown contain pre-production vehicles — actual production vehicles may differ slightly.
1. All specifications are projected for an R1S with the Adventure Package, 7 seats, Large pack battery and 20" wheels in Off-Road Mode. Actual vehicle capability will depend on selected options and trim.
2. Amazon, Echo, Alexa, and all related marks are trademarks of Amazon.com, Inc. or its affiliates.
3. Some range and charge times are preliminary manufacturer estimates based on the EPA test cycle and are not official EPA values. All official EPA values are noted. Vehicle range varies with conditions including weather, driving behavior, vehicle condition and load, and battery age. Charging rate decreases as battery reaches full capacity and may be limited by charger capability.